Via Veloce by Wille R. www.veloce.se Internet since November 1995 and still here. alfa romeo spares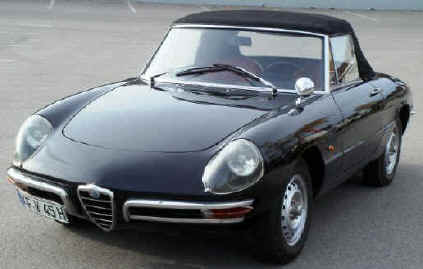 The various Spider models
Please note: VIN notes in brackets are from Benson for USA/Italy and Glass's Guide for UK. VIN notes not in brackets are snipped from Luigi Fusi, Alfa Romeo Autoleaio. Other sources are Alfa-Digest and sales material from Alfa Romeo in Milan.
Model Name
BHP
YEARS BUILT
SERIES
Duetto 1600
109
1966-67
105.03 LHD
105.05 RHD
1750 Spider Veloce
118
1967-71
105.57 LHD
[Kamm f. late 1969]
122/132?
1967-71
105.58 RHD
1750 Spider Veloce US last one built '73
118
1968-72
105.62 USA
[Spica inj.] Kamm+3 bhp f. 1970
132/135?
-
-
1300 Spider Junior
89
1968-71
105.91 LHD
[Kamm f. 1970]
-
-
105.92 RHD
Spider Junior 1.3
89
1971-78
-
1600 Spider
110
1972
-
1600 Spider Junior
110
1972-75
115.07 LHD
115.08 RHD
1600 Spider Junior
102/104
1974-81
115.35
2000 Spider Veloce
last RHD car imported late 1977, some registered as late as Sept 1978
130/133
1971-77
105.24 LHD
105.27 RHD
2000 Spider Veloce
128
1975-82
115.38
2000 Spider Veloce
-
-
-
South Africa
150 SAE
1975-78
?
Spider 2.0 USA
129
971-74
115.02 or -75??
Spider 2.0 Federal
103/110?
1975-78
115.
Spider Calif. cat
111
1976-77
-
Spider US cat
111
1978-79
115.41
Spider US VVT
109.5
1979-81
-
Spider US Bosch inj
111/115?
1981-82
BA541
Enthusiast's Spider
111/115?
1982
-
2.0 Aerodynamica
128
1982-86
115.38
1.6 Aerodynamica
102/104
1983-86
115.35
2.0 Aerodynamica
128/125
1986-89
115.66
115.A1A
2.0 QV
128/125
1985-89
115.60
115.A1A
1.6 Aerodynamica
102/104
1986-89
115.62
115.A2
2.0 Aero inj + cat
115/117
1986-89
-
Spider US Graduate
115
1985-89
BA564
Spider US Veloce
115
1985-89
BA558
BC576
BC558
Spider US QV
115
1985-89
BA556
BC570
BC556
Spider S4 1.6 died [in Europe] end 92 due to catalyst laws
109
1990-93
115.A2
Spider S4 2.0
126
1989-93
115.A1
Spider S4 2.0 cat
last one built April 1993
120
1989-93
-