Via Veloce by Wille R. www.veloce.se
since November 1995 and still here.

Back to FAQ. First published Nov 1997

Next
Alfa Romeo Duetto 1966 - 1969 FAQ --
The hood was always black
One of the most attractive aspects of the Duetto was its folding soft top, which looked great whether up or down. Its ease of operation and effective weatherproofing earned it praise from many quarters as the best convertible top yet made.
The Duetto's soft-top itself was made of impermeable mohair and came in only one colour – black. There was some criticism about rear three-quarter visibility, for the soft-top canvas began immediately aft of the winding windows and there was effectively no wraparound in the flexible vinylite rear window.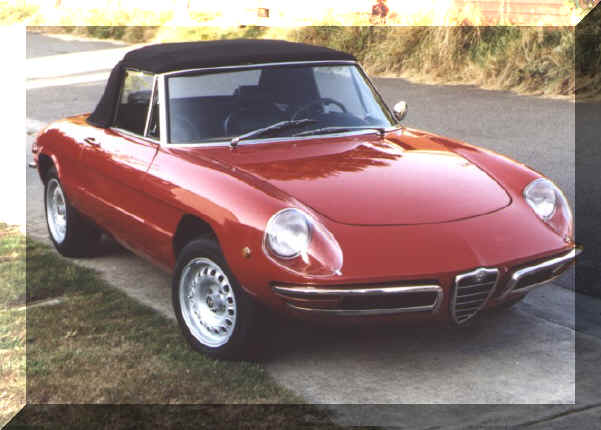 The soft-top folded in one movement. First the over-centre catches securing it to the top of the windscreen frame had to be unclasped using Velcro at the sides. Then the soft top could be arched backwards, the folded soft-top encroaching somewhat into the space behind the seats. It was then held tight by pulling a central strap down and fixing it by Velcro, at that time a novelty.

An elasticised vinyl cover could then be removed from the boot, its two solid bars having to be joined together by a bayonet fixing and then engaged on the chromed hooks mounted on the body between the soft-top and boot lid. Then forks could be attached in the doorjamb area and the cover could be buttoned down. An elasticised vinyl tonneau cover designed to protect the entire passenger compartment was an optional extra.
An optional hardtop was available from the outset. Styled by Pininfarina, it was designed to compliment the Duetto's harmonic lines, although that was always going to be a hard task and some criticised it for looking too square against the curvaceous body shape. One significant advantage was a large glass area – including sizeable rear three-quarter windows – that improved visibility substantially over the soft-top.
The hardtop was made of two pressed and joined plastic shells, the cavity being filled with an expanded insulating material. The top sealed against the body with thick rubber, and no attempt was made to trim the interior – it was simply sprayed in a mock-leather finish. Only one colour was available for the hardtop: black with a vinyl finish.
The earliest hardtops differed from later ones in that they did not have a raised trim above the windows. At the November 1966 Turin Motor Show, the hardtop was altered to incorporate this chromed raised trim, presumably in an effort to direct rainwater away from incoming or outgoing passengers. Because of their expense (in the UK, £70 as an option), all hardtops are today very rare pieces, the 1966 items especially so.
---
If you have any comments, please send an E-mail

Top
#