First published 1995 April 3

My 1967 Alfa Romeo 1750 Spider Veloce log. I'm Wille R.
Updated November1 2019

In Sweden we have an official compulsory control every second year by the SBP. The km figures show the total mileage every year as registered by the SMOG-authorities SBP, the MOT inspection

1967 May 7th
Manufactured and shipped to Sweden and stored there for two years. Original color Rosso Montecatini by DuCo # 95-C-9068 the same as AR514. That's red with a slight tone of orange. Black sky interior and Webers! However, the Spider just stood there in the showroom for two years. Obviously the Alfa Romeo Sweden delivered the Spiders like LIFO or: Last In, First Out.

1969
Finally sold and registered on September 12th 1969.

1970 6 003 km
Purchased by me in late 1970 from Harald Kronegård Co in Stockholm. Finally!!! Proud owner. I am so pleased. I love the bright red colour, driving with the top down is like a dream. It was so fun to explore my Italian beauty. I only had a service changing oil and filter.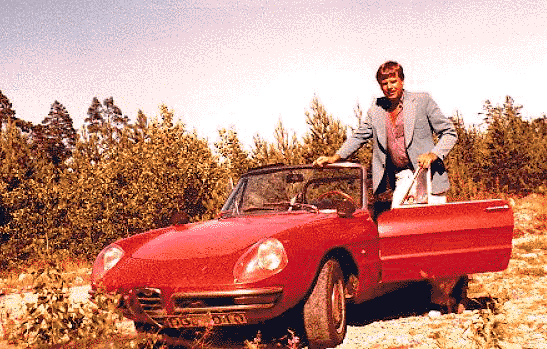 1971 11 266 km
I had a wonderful summer, driving and caring for my Duetto. I did a rust preventive treatment all over and insed the wings and fenders. Later I am very happy to have done this as the Duetto was very prune to rust. The engine starts and revs happily, but I am very careful to warm it up for at least three - five minutes before taking off. Five speed full synchro gear box makes it even better, like four discs breaking system.

1972 18 220 km
What a joy. Just driving around in Scandinavia. No problems. New spark plugs and oil. I put on the Momo Vega alloy rims. Car stereo fitted and I am digging Jerry Lee Lewis and Duane Eddy every day. I also mounted my Momo Super Indy 14" steering wheel. I am trying to lern all about the Duetto every day. There are only a few here but there are many other Giulias in the Club Alfa Romeo Svezia.

1973 23 660 km
I had to replace the clutch master cylinder, the old was starting to leak for some reason. The job was done in a few hours. Then we went to Italy. Valves adjusted to 0.45 New Castrol oil. Replaced front brake pads, for some reason the old pads did not last for long.

1974 39 610 km
Italy. Running as good as ever, no problems. Replaced left front brake hoses and I lost my hood bag somewhere. New front Pirelli tires. I bought new complete Hella 4H iodine head lamp sets and replaced the original convential bulbs. A nice improvement. Oil, filter and a regular service at Gustav Nyström Bil AB, Uppsala

1975 47 410 km
Just driving around. One head lamp cowl was smashed so I had to buy a new one. Replaced the fuel hoses from the pump to the Webers, the old hose was tending to leak. New oil, plugs filters etc. Nothing special happened. I did 11 km on one litre fuel in average.

1976 56 520 km
Switzerland, I had the ignition retarded and adjusted. Two parking fines in Laussanne. She exceeds 190 km/h easily on the Autobahn, but with the top down it's no fun in that speed. So I changed to go in a more modest driving. Oil and filter as usual.

1977 71 240 km
The Netherlands for three weeks. Smashing roads to drive on. My first and only flat tire so far. New Pirellis fitted on the rear wheels, 185/70x14. Lost the key to the glove compartment in den Haag, never found it again. The SBP banned me 'cuz the tires were too wide! I have 185/14 Pirellis instead of 165/14. I went to another control center with a nice person who liked the car, so I passed. Annual oil and filter and regular service again.

1978 87 840 km
Replaced left outer track rod end. I had to buy a new rear mirror from Autoalfa, someone had kicked the old off the car. #¤%%¤& idiots. Water pump replaced. New battery, old was totally dead. New clutch, release bearing and propeller shaft U-joint. Plugs and oil and filter new. Valves adjusted again to 0,45 mm. Drove to Italy for one week.
I got a new clutch and friction plate plus a new hose for the slave cylinder. I replaced the sot top with one made of vinyl

1979 95 130 km
New paint and I replaced the hood. I did it almost by myself and I like the result, I sanded the body and had a shop to do the paint. No rust on the Spider. The hood was of vinyl and turned out to be very durable. Drove away to Italy again. New oil in the tranny and rear axle and in the engine plus filter.

1980 108 130 km
Only domestic driving, no oil consumption but regular change even though. New battery. New soft top, this time the proper material made of cloth. The vinyl became to loose due to the sun and the warmth.

1981 114 670 km
New tires all around. New piston rings and clutch replaced again! Engine noise, might be the cam chain. 1997 I found out it was not! New front seal for crank shaft. Anti-theft arrangement on steering wheel fitted.

1982 118 250 km
New upper cam chain, still engine noise. The brakes are setting and the booster is loosing power. Lots of other things to do so I waited to order the spares.

1983
No driving. New exhaust system and new brake booster fitted. Replaced brake tubes on rear axle. Still that ¤#"%¤¤ engine razzle.

1984
No driving. Replaced bleeding screws on rear brakes.

1985 112 150 km
Still some engine noise, rear shock absorbers replaced, otherwise no problems.

1986
No driving.

1987
No driving. Brakes needed bleeding again. New battery. Must be due to non running so the battery drained and never charged again after that.

1988 122 250 km
Engine noise continues at 2.000 to 2.500 revs. New plugs and valves adjusted. Still no oil consumption.

1989 123 050 km
#¤%

1990
No driving. One tail light did not function. New wire fitted.

1991
No driving. New lower cam chain fitted but still that annoying engine noise.

1992
No driving. New rear exhaust pipe.

1993 125 210 km
New oil. Engine noise continues. . . #¤%="##. Brake pads front.

1994 127 660 km
Windshield wiper motor broke down. Replaced with one from the junk-yard. It came from a FIAT 127, they used the same.

1995 128 850 km
Complete gearbox overhaul. New rubber mounts and yellow Koni shock dampers fitted. Brakes overhauled, new discs all over and new gaskets there.

1996 129 100 km
Two new Pirellis 185/70x14 and going to Italy again. Hood (soft top) replaced, I am very pleased with the quality. Speedometer is starting to malfunction.
Going to Italy and Switzerland, total 4320 km. In Omegna I met this mechanic who said that the pistons might be of the non-offset kind that were used in a minor number in 1967. That might perhaps be the answer to the engine noise. He also mounted an electronic ignition system and the car is revving like never before.
Back home again, I replaced the head and fitted new liners and pistons. I measured the pistons and connecting rods and the discrepancy was a good 2 g. Total engine overhaul carried out in September.
%¤#¤¤ chaos. The coolant is leaking through the entire engine. Two of the liners are apparently too short??? No compression on # 1 an 2.Once again removing the head and replacing the head gasket, no change. Rechecking the head for flatness, everything OK.
I take the Alfa to my favorite garage. Again, we have the head checked for flatness and the liners measured. The new liners are 0,20 mm shorter than the original liners. Very strange indeed. The entire engine is cleaned and checked. Four new bolts in the head for the exhaust manifold. The liners are above the head within the tolerance 0.20 mm. Once more, the engine is full with coolant.
Again, for the fourth time I dismantle the engine. The valves are grinded at a specialist garage. When reassembling I use a lot of sealant and this time it works.
Finally, the engine is running again. The engine noise is gone. It appears as if the non-offset pistons were causing the sound.
I have welded the jack points and the front bumper support, nothing else have been under the attack of rust so far.
Now, it's time to re-spray my Round tail. I remove every detail from the body and have it painted in the original color Rosso PininFarina, a red color with a slight tone of orange. Very nice, I have ordered some new parts from Highwood Motors. Front grill, badges, a canvas hood and some switches. Back again I mount the chrome and the new canvas hood and red carpets. Ready to take off. Finally, my Round tail is as good as when I first met her in 1970! However, there is still this razzling noise.

1997 131 410 km
What a joy to drive around in an Alfa Spider! I have had my Momo rims re-sprayed and am ready to take off for the Båstad Classic Car Show. I have also got my Round tail a brand new hood bag, excellent quality from Coburn Co in UK. I had to replace the ignition wires, all four of them. The engine was misfiring when accelerating and was firing in the exhaust system too, when decelerating. The local junk-yard had a set from an Alfetta, free! That solved the problem. What else? SBP told me to replace the track rods, easily done.
Finally, the authorities in Sweden accepted my Spider as a 1967-model. Nice fellow at the VägVerket in Sweden, D. Thorn helped me. No taxes any more and I'll even get a refund. Great! Thanx a bunch.

What a mess I was driving with my 'spouse Stina when suddenly the front crankshaft pulley was spinning of like a Frisbee. To make a long story short, the love of my life, Stina managed to find the pulley in the wood again. The nut had obviously been cracked since 1980! I replaced and fitted a new lock-plate and like magic, the engine razzle disappeared. It was the locking shim that had been razzling all the time. It must be the most well tuned 1750 engine ever. For fourteen years I have been going over the tolerances, the valve shims, the head, the ignition etc etc. Well, now I have an excellent smooth-running engine and do not worry about the past. New oil in the tranny and rear axle
One little advice, the problem might not be what you think it is!

Noticed that the radiator has a tendency to leak when hot. Have to fix that ASAP. Flat tire, second time in 33 years! Clutch master cylinder kaputt! New one from Highwood £40.00

What a joy to drive a smooth 105-Alfa Romeo!

1998 136 498 km
There were no problems at all. I just did the regular oil change in the engine and the gear box. The Spider meeting in Limburg inspired me to overhaul the interior floor pans. I painted them with a special enamel paint. At the same time I painted the anti-roll bar. I also made a wind shield for the bar in plexiglass to reduce the wind coming in my neck. It worked just fine. Lots of good driving this summer.
An ammeter was fitted in the engine bay to check the alternator. The hood frame got some paint too, same black enamel quality. New track rod ends all over. New battery also.

1999 140 026 km
The valve timing and clearance were checked and adjusted. New fuel filter. Outer track rod ends replaced, the old had worn out. Wheel camber etc adjusted. The compulsory automatic light had blow a fuse, easy to adjust. I also laid my hands on a 1966 Duetto totally dismantled. Perhaps a donor car or a project car, ten years at least it will take.
New engine oil and filter. Total 10w-40 is my choice now. In France I blew a fuse for the wipers and had to get new blades too. Rear brake pads replaced in August. She runs and idles perfect, smooth and quiet. What an engine. I have cleaned the entire engine and the bay so she looked very nice at the Classic Car Show -99. The cable for the bonnet was loose, so I had to adjust it.
I fitted a new reservoir and improved the cooling system. The temp. was firm and precise even before, but now there is more water flushing in cooling system. I had noticed that during long distances, say five to ten hours, the radiator had some air and this pressed the water into the reservoir. The new improved system solved that.
I also swapped the gas tank for the one from the -66 Duetto and painted the tank silver using Hammertite. Looks nice and works well.
Oh, yes of course. We went to the Limburg meeting again and to the Alsace valley in France. We did 3700 km in three weeks. Funny, when I drive real cool and calm, the average fuel consumption goes down by some 20 to 25 percent. Michael "Alfanut" Williams was here to check and drive the Duetto and he was impressed. Nice fella.
147.574 km In September 1999 I changed the Jaeger Speedo with a Veglia, don't want to drive too much this summer with the Jaeger. The total Km this summer was an impressive 7.548 km and no problems. The Alfa is very solid and reliable. The Veglia reads 64.110 km. Oil change at the same time, five liters of Total 15/40 W. I use NGK B7ES plugs.

2000 144 236 km
Brake light switch broke, same as on the old Volvo Amazon! Clutch slave cylinder replaced from Highwood.
New hoses for the coolant reservoir. T-pipe junction for rear breaks at rear axle started to leak. I had to fit new brake pipes at the rear axle and also to replace the flexible hose. Did not cost much fortunately. Two regular oil changes 20-50w
Driving Holland to meet other Duetto friends.

2000 155 423 km
Tours to U.K. we drove to Cambridge, Oxford, Wales and to Lands End. Nice. Then France, Belgium and Holland. In Holland we met the Dutch Spider Register for another great event. Regular oil change in both engine and transmission. No major problems, everything was just normal.
Replaced the ignition wires. New NGK B7ES

2001 172 113 km
Tours Italy again, Caorle, north of Venice. We had +39 degrees one day but the Spider liked it. No problems except for the gearbox, which was leaking a lot of oil. Then back home for a week before Holland again and Eifel this time. Regular oil change. I changed to an overhauled gearbox as my old one was leaking and the syncros were gone on 2nd and 3rd.

2002 195 870 km
Tours to U.K. Then France, Belgium and Holland for Duetto meetings. Two regular oil changes 10-50w and a new battery, they don't seem to last very long.

2003 210 041 km
Tours to Belgium and Holland. Two regular oil changes 10-+50w. Engine overhauled. New valve guides and new valves. Liners from an Alfetta engine, rings and con rod bearings. New exhaust all over. New tires all over, 185/70x14 BFGoodrich

2004 232 205 km
Tours to Italy, Umbria. Duettoclub Italia arranged a meeting, Raduno in Cittá di Castello. Very good event. Back home, I had to do a major engine overhaul as the parts I fitted previously came from an old Alfetta engine. I bought brand new liners incl new pistons, rings, con rod bearings. New valve guides and valves all over. Runs perfect. I should have used new parts instead the last time. Regular oil change.

2005 258 088 km
Tours Italy of course, Umbria, Orvieto and the Duettoclub Italia and Marche. I broke my foot in Lazise and had to stay as an invalid for seven months. Two regular oil change. New oil in the tranny and rear axle

2006 299 660 km
Tours to Italy in May. Lombardia and Lago Maggiore. Duetto 40 anni. Holland with the Alfaspider club in Holland.in July. The we went to Italy and Puglia in September. Two regular oil change, now synthetic 5/50W. Repairs: Rear wheel bearings and the bushings in the rear axle replaced. A flat battery. Light in glove box was on, now disconnected.

2007 324 501km
Tours to Italy. Umbria in May, Toscana in September
Repairs and maintenance: Two regular oil changes, 5/50W. Prop shaft support bearing replaced. Front spring pan right side replaced. All bushings in the front suspension replaced. Delta-Bil. New windshield, old cracked thanks to a flying stone. New red Koni shocks all around and NGK B7ES plugs.

2008 335 964 km
Tours to Italy again in September. Upper cam chain replaced. I flushed the cooling system. Two regular oil change 5/50W.
New windscreen twice. First one was blasterd, second one got a pebble in an Italian gallery. Rear bearings changed, both sides.

2009 350 520 km
Tours to Nordkapp, Italy, Liguria and Lago d'Iseo, plus Switzerland. New front springs and castor supports. Replaced rear wheel bearing again. Wiper motor replaced. Regular oil change 5/50W.
I had my Duetto re-sprayed in AR514. The dashboard radio hole welded and the radio moved down under the dash.
New windscreen again. A crack from a pebble in Italy again. New brake pads all over and I changed the brake fluid too.

2010 351 884 km
Tours to Italy again in May and September. New red Koni shocks and new springs all over. Two regular oil change 5/50W. I fitted a Shark 250w audio system behind the seats.
Replaced the O-ring seal in the Burman box. Replaced the front crank seal. Webers adjusted and new cam chain by Delta Bil. New Bosch spark plugs. There are very good, four electrodes. I also replaced the exhaust system, from headers and backwards.
New door straps as the old were too dry and cracked.

2011 366 869 km
Tours to Italy again in May for the Mille Miglia and September just for a vacation. New red Koni shocks and new springs all over. Two regular oil change 5/50W.Complete rust protection by Dinitrol Center here. Delta Bil adjusted the valve clearance, the Webers and put new spark plugs by Bosch, WR56 with four electrodes in the engine. They are very good indeed. I have also placed a hidden GPS tracker TK102 in the Duetto.
I had to replace the brake light switch again. Same as the VW. Clutch slave cylinder replaced.
The water pump was finished so I replaced it. The new one has an impeller in plastic but looks quite OK. One flat tyre rear right. I replaced the hand brake cable all over. Nice.
I hade my Duetto re-sprayed and the AR514 looks very, very nice. New soft top (hood) fitted and new seals along with the top. The starter failed a few times at the MM, I think it was due to the extreme heat and sunshine.

2012 372 664 km
Dashboard painted and the radio hole welded. No radio there now, It's under the dash. Alternator replaced. I had some problems with the rear lights and made a new earth connection. I also replaced the brake pipes finally, for copper ones and steel braided Goodrich hoses. Nice.
Tours to Italy again in May for the Mille Miglia and September. Two regular oil change 5/50W. New clutch master and slave cylinder. New oil in the tranny and rear axle. New clutch and friction plate plus a new rear crank seal. A pebble smashed the wind screen. New rubber mats inside, sills and floor. Replaced the sender in the fuel tank.
New battery, this time from a Volvo supplier. I wonder how long this one will last. New tyres 185/70x14 by Hankook, they are very good and quiet.

2013 383 484 km
Tours to Italy again in May and the Mille Miglia and September. Two regular oil change 5/50W. I replaced the alternator with an overhauled one.
New spark plugs by Bosch WR56, four electrodes. Really good. One cam shaft replaced by Delta Bil. Also a new clutch and friction plate finally. They last very long. Swapped back to the old alternator after having been overhauled.

2014 398 441 km
Tours to Italy again in May for the Mille Miglia. Two regular oil change 5/50W. In September we drove northbound in Sweden, very nice in the summer. I put my original steel wheels back to the original look, I like it but I will keep the Momos in the garage until later. I hade the Hankook tyres mounted on the steel rims.
A had the starter replaced for a light-wheight one. The previous did not like the hot summer in Italy.
Oh, I have done ten laps around the globe in 45 years in my Duetto 1967.

2015 399 892 km
The inspection ended in a blank protocol. Great. I replaced the starter for a new light weight which spins on happily. Now I need to replace the front crank seal, there are some stains of oil under the cooling hoses. Seal replaced. They seem to last 80.000 - 100.000 kms or ten years.
On June 14th I am very close to 400.000 kms.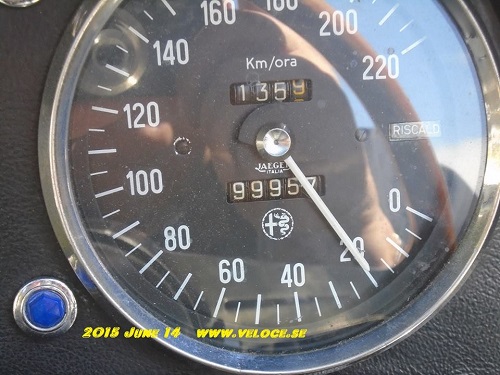 I had to replace the wiper motor. Works fine now. I replaced the alternator control unit.

2016 400 128 km
April 2. The sender for the oil pressure warning light gave up so I replaced it. Also oil change plus filter, Agip 10-60w full synthetic again, I am very pleased with that oil. So, I'm ready for the new season. Tour to Italy again, Chianciano in Tuscany, then to Liguria, Piemonte.

2016 412 938 km
Oil change, Agip 10-60w again in late September,, engine, gearbox and rear diff. Also, changed brake fluid. New brake pads rear. Valves adjusted, only minor adjustments needed on two valves.

2017 413 858 km
Lockheed servo overhauled and rebuilt, new seals and valve gaskets from Powertrackbrakes in the UK. Pls see under Mech index about how-to-do-it. Brakes bleeded OK. The traditional maintainance in early March.
MOT passed with no comments in the protocol. CO was a very good 3.8. Perfect.

2018 405 517 km
A new battery required. The last one was eight years old. LED lamps all over except beams. A new wiring harness in place. Then the soft top got some TLC. I also had to replace the speedo mechanism. It has no 05 519 km. I changed the oil and filter at the same time. 405 517 km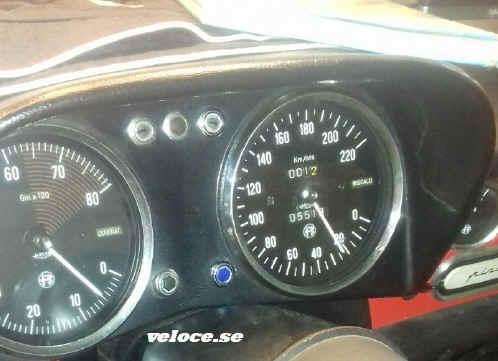 I have LED bulbs all over except the beams. A nice improvement. The breaking lights are very sharp now. I can see the gauges clearly for the first time.

2019 438 406 km
Brake booster by Powerpoint. The original did not do the job very well, not even after the overhaul. Passed the MoT inspection with a clean protocol. I have fitted an alternator from Highwood. Charging is excellent. Italian tour in May-June over the Alps and through Germany. 4.223 km. No problems. Two new front tyres H 185/70x14.
I have a log using my Swetrack here 2019-2020 and the current logg is on Facebook I update ASAP every time I drive or work on my Osso. Welcome to follow.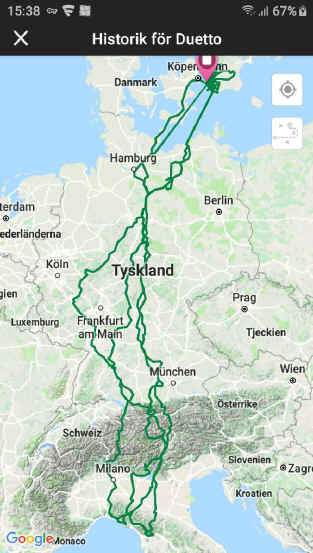 If you have any comments, please send an E-mail

Top