Via Veloce by Wille R. www.veloce.se
since November 1995 and still here.

Back to FAQ. First published Nov 1997

Next
Alfa Romeo Duetto 1966 - 1969 FAQ --
Useless knowledge but . . .
Did you know that:
On its introduction in March 10th 1966, one writer commented that it was "a contrived design with meaningless styling gimmicks that would not last for long".
The choice for the name of the new car was decided by a competition. The name Duettowas chosen from 140.000 entries. The winner, Sig. Guidobaldi Trionfi from Brescia, got a brand new car as a prize. Among the other suggestions included Gina Lollobrigida, Bardot, Piranha, Acapulco, Shakespeare! Al Capone, Pizza, Stalin, Sputnik, Edelweiss, Gin, Strip, Goal and Hitler! Duetto is nicer, much nicer.
When it was launched in the UK, it was priced £ 1.895 or almost as a Jaguar E-type and twice the price of a Triumph TR4.
When the "Kamm-tail" was unveiled in 1970, Road &Track commented "The body is dated and the ergonomics are outdated". I wonder what the say in 1999?
Alfa Romeo had such trouble meeting the Californian emissions regulations that it briefly had to abandon its most lucrative market in 1975 while Alfa developed a catalyst version.
Manufacture of a version to meet the British Type Approval became uneconomic. UK import ceased in 1977 but the last one was sold in 1978.
Dustin Hoffman saved the gorgeous Katherine Ross from a marriage worse than death, despite his red Spider running out of petrol, in the film "The Graduate" in 1968.
There were three different Duettos used in the movie
Young model linda Gray shows her leg in the poster for the movie, where Dustin Hoffman is looking at her leg and stockings.
The Spider was sold in the US as a "Graduate" model during the 80's.
The car that was described in 1977 as a "collector's piece still available new off the shelf" was still available as new in 1994.
The Spider was Battista Pininfarina's last complete design before he died.
Alfa Romeo Spider 1600 Duetto (1966) Price 2.312.800 Lire
Alfa Romeo Spider 1750 Veloce (1967) Price 2.312.800 Lire
Alfa Romeo Spider 1300 Junior (1968) Price 1.796.000 Lire
Alfa Romeo Duetto / Spider, Model numbers 105/115 (1966-1993): 124.105 cars,
which were
Alfa Spider 1600 (1966-1967): 6.325 cars
Alfa Spider 1750 Veloce (1967-1970): 5.497 cars
Alfa Spider 1300 Junior (1968-1970): 2.680 cars
Alfa Spider 1300 Junior (1970-1977): 4.556 cars
Alfa Spider 1750 Veloce (1970-1971): 3.234 cars
Alfa Spider 2000 Veloce (1971-1982): 16.320 cars, grand total 22.059 including USA-Version
Alfa Spider 1600 Junior / 1600 Veloce (1972-1980): 4.848 cars
Alfa Spider 1.6 (1983-1989): 5.400 cars
Alfa Spider 2.0 (1983-1989): 31.808 cars, including 19.040 USA-Version
Alfa Spider 1.6 (1990-1992): 2.951 cars
Alfa Spider 2.0 (1990-1993): 18.456 cars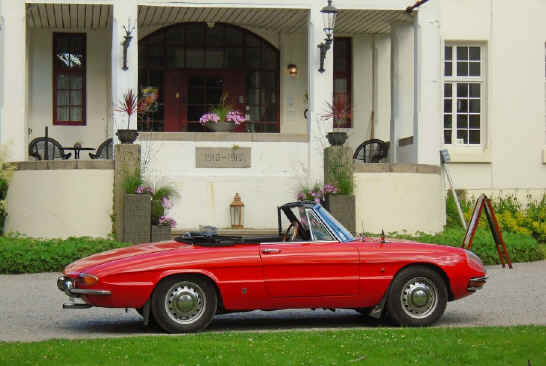 Some of the Duetto spiders were alsy modifed for racing. Here are shots of Duetto racers.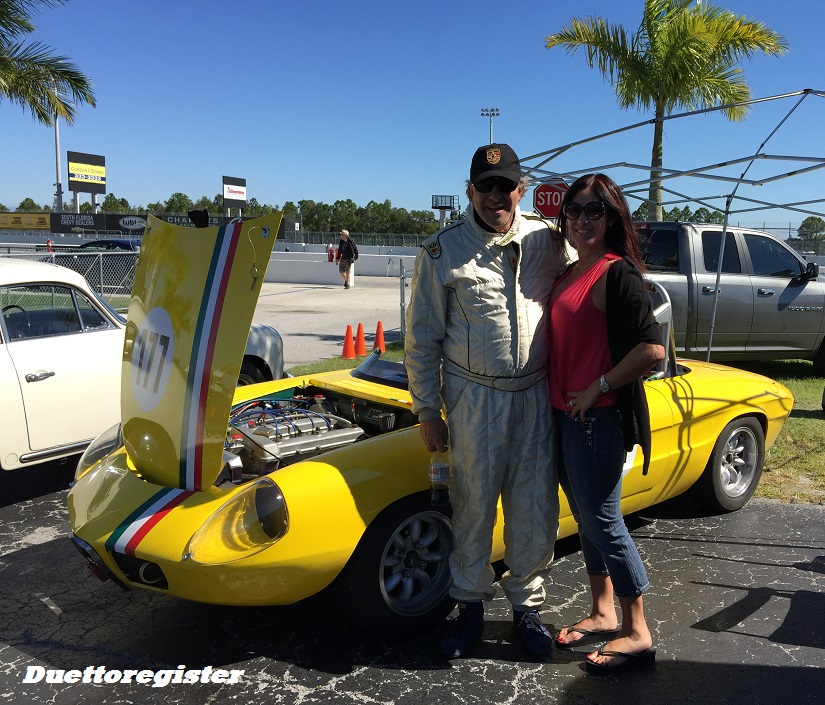 If you have any comments, please send an E-mail

Top
#